History of the Bank
In the 1870s and 1880s, Maryborough enjoyed a period of major growth and prosperity as the main port and centre for the Wide Bay district, which stemmed from the sugar industry, coalmining in Burrum, and manufacturing such as Walker's Foundry.
By the early 1880s, the first Australian Joint Stock Bank in Maryborough was described by the Maryborough Chronicle as being in a 'ramshackle' state. With the flow of new trade and wealth that came from the completion of the railway line south to Gympie, the Australian Joint Stock Bank decided it needed new premises that better reflected its position as one of the leading banks in the colony. The prestige of being the architect of the new building was given to Francis Drummond Greville Stanley, or FDG Stanley. FDG Stanley had served as the Queensland Colonial Architect from 1872 to 1881, designing a number of government buildings throughout the colony of Queensland. He resigned from the job but continued as a prolific designer of houses, churches, banks and commercial buildings throughout Queensland. As FDG Stanley has already designed AJS bank premises in Mackay and Ravenswood, he was the logical choice for the new Maryborough premises. Construction began in mid-1882 and was finished in 1883.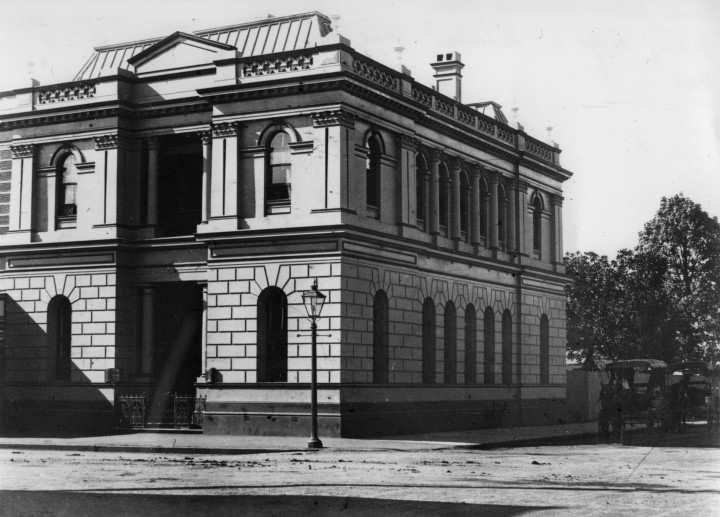 The Bank in 1906 (then Union Bank)
The local branch enjoyed a prosperous decade as Maryborough and the district reaped the benefits of the local sugar industry, gold mining, coal mining, agriculture, and timber. During the Gympie gold rush, more than 4 million ounces of gold was processed in Maryborough's merchant banks before being shipped from Maryborough's port.